A more detailed account of my day on January 6, 2021, can be found here:
https://thepragmaticconstitutionalist.locals.com/post/3897816/what-i-saw-on-january-6th-in-washington-dc
---
-On Dec. 21, 2020 — two days after Trump announced his own "wild" J6 rally at The Ellipse in D.C. — I posted this announcement to my social media accounts:
"Regardless of how you feel about the election results, this might be a spectacle worth observing up close and personal. (I'm predisposed to believe this crowd will not riot, loot, and burn the city.) I might begin my northeast run on this date, in DC. Anyone else going? #tpcroadtrip2021"
Well . . . they didn't "burn the city."
——
-In my email newsletter that went out on January 4, 2021, I made the following comment:
"I am headed to DC on Wednesday. Why? Not because I think a crowd of any size is going to force government into a real investigation of the election results, but because the "powers that be" on all sides of the political equation need to see WE THE PEOPLE in force, letting them know that WE ARE WATCHING. WE are engaged! WE are not going to lay down to any level of tyranny — whether it comes from the right or the left, the Democrats or the GOP. I'm also hoping to document on video anything "special" that might happen, and perhaps get a few interviews from a variety of voices."
-By "special" . . . it was rumored there would be some big announcement on the election controversy, (a release of The Kraken, maybe), about which I hoped to get comments from members of the crowd. There was nothing special announced from the stage, by Trump or any of the others. The "special" came later . . . unexpectedly.
——
-I arrived at the Washington Monument at about 9:30 am on January 6, and spent the next three hours watching the crowd grow to an enormous size — documenting it on video.
-Trump took the stage almost an hour later than announced, at 11:57 pm. His "warm-up" acts were 'meh,' and his speech was equally 'meh.' Because of the cold, windy conditions, the poor audio, and wanting to get ahead of the throng that was scheduled to march on the Capitol for the other events, I left the Washington Monument lawn about halfway through Trump's speech and began a brisk walk toward the Capitol Building . . . along with thousands of others already peeling off from Trump's speech.
-I arrived at the Reflection Pool on the west side of the Capitol at about 1:15 pm, where I was hearing police sirens and what sounded like explosions. From there, I could see smoke and the arrival of DC Metro PD (MPD) units pouring down the steps toward the west terrace. I made the decision to sprint up to the terrace, where I turned on my camera at 1:19 pm, and for almost an hour filmed the violence and surging crowds in that area.
-Just after 2:00 pm I began to notice signs of Capitol Police (USCP) withdrawal. Shortly thereafter, there was a sudden surge of protestors up the stairs underneath the scaffolding on the northwest side of the terrace. Hundreds of protestors were now in unrestricted movement up those stairs, so I followed.
-At approximately 2:21 pm I followed hundreds of protestors through what some call the "Senate Wing door." This, I would later learn, was the site of the first breach of the building. I did not see the breach, as it occurred at approximately 2:13 pm, while I was still on the lower terrace.
-For almost 40 minutes I captured scenes inside the Capitol Building, before exiting at about 2:59 pm, at the exact location where FBI tactical unit medics were trying to save Ashli Babbit's life. Just over one minute after I exited through the South door, I filmed Babbitt's extraction through that doorway, while the D.C. Fire EMT crew still worked feverishly on her lifeless body.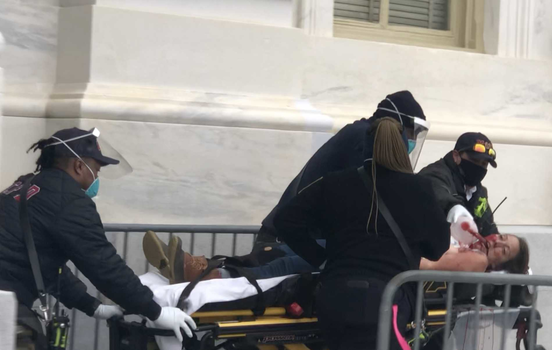 -Shortly thereafter, I gave a couple of interviews to local media, found a restroom and a sandwich, then returned to the Capitol to witness the arrival of the Army and Air Force National Guards finalize the clearing of the entire Capitol grounds. I then returned to my hotel in Arlington sometime after 7:30 pm.
——
-For the next five days I began frame by frame review of my videos, and then started writing my first story about the event, which was posted on January 13, 2021:
https://thepragmaticconstitutionalist.locals.com/post/3897816/what-i-saw-on-january-6th-in-washington-dc
-On February 24, 2021, I published my second story about J6:
https://thepragmaticconstitutionalist.locals.com/post/3897816/what-i-saw-on-january-6th-in-washington-dc
-As I've pointed out many times, I got a few things wrong in my earliest analyses. I've tried to correct those over the following months and years as new evidence has presented itself. But, those two articles remain as written — errors included.
——
-Because I engaged in no violence, property damage, chanting, singing, carried no flags, and wore no political messages on my clothing . . . as the months wore on I began to think maybe I was going to have the same respect as so many other journalists who were not being rounded up in the J6 dragnet. But, on the morning of July 22, 2021, I received a phone call from FBI Special Agent Gerrit Doss. After he asked me for a voluntary interview, I immediately turned that over to my local attorney, and they worked together with all our schedules to arrange a date for the interview.
-The first attempt at scheduling the FBI interview was aborted on-site, on the morning of August 5, 2021. The reason given — after my attorney and I had already arrived at their Cary, NC filed office — was that they could not interview me, "because of my press status," until after they received a letter of approval from the U.S. Attorney General's office.
-My attorney worked with an assistant USAG, they negotiated a proffer agreement for the interview, and it was rescheduled for October 18, 2021. I was interviewed for two full hours, under the agreement that nothing I said in the interview could be used against me — should charges be made against me — in court . . . unless I perjured myself. (That didn't happen.)
-On November 17, 2021, my attorney received an email from Assistant U.S. Attorney Anita Eve — out of Philadelphia — stating, "Your client will be charged within the week."
-On Monday morning of Thanksgiving week — November 22, 2021 — we sent out approximately 200 press releases to all manner of media sources, stating that I — an independent journalist — was about to be prosecuted for nothing more than the act of "journalism" on January 6.
-At approximately 1:00 pm that same day, AUSA Eve sent my attorney a copy of that press release, stating, "We're not happy about this." He responded, asking, "Are you saying my client should forego his 1st Amendment right because he is being persecuted by the federal government?" There were a couple of other exchanges between my attorney and the AUSA before she went silent. I assumed that was because of the Thanksgiving holiday.
-My phone began to ring from interested media sources, wishing to cover my story.
-On Tuesday evening — November 23 — I received a call from Senator Ron Johnson (WI), asking me how he could help. As the minority leader of a Senate J6 investigative committee, he put me in touch with his investigators.
-On Wednesday morning — November 24 — I was contacted by an attorney who practices criminal law in D.C., who happened to be a federal prosecutor for more than 20 years. After a three-hour phone call, I engaged his services.
-On Monday — November 29 — my new attorney reached out to AUSA Eve by both email and phone, and she never responded. We never heard from her or the FBI again . . . until yesterday — August 5, 2023 — more than 20 months later, when my Raleigh attorney received a call from the FBI notifying him that they had "service of process" for me.
-This turns out to be a Grand Jury subpoena, requesting my January 6 videos. My attorney received that on Monday. We have been able to determine the DOJ has reopened its investigation into my January 6 activities. I volunteered to give those to the FBI during my interview in October of '21, but they never followed up and requested them. The most unfortunate fact is . . . grand juries are not convened to investigate misdemeanor crimes. For unknown reasons, they are apparently considering a felony recommendation to the grand jury. As of this writing, that is all we know.
——
-Since January 6, 2021, as well as the time since my threatened prosecution, I have been very active in investigating many aspects related to January 6. Something I never expected to be engaged in. I have broken original stories, developed Capitol Police whistleblowers, met with Congress Members, and engaged with congressional staffers and investigators. All of that has been well documented in my blogs.
-In the fall of 2022, I covered every day of the first, nine-week-long Oath Keepers trial, at the District Courthouse in D.C.
-I've been interviewed for my work by innumerable media sources — large and small — from Tucker Carlson on Fox News, to reporters with both NBC and the New York Times, to smaller podcasters. I've also collaborated on several stories with The Epoch Times, and have been one of a small hand full of journalists who've been given access to that "41,000 hours of J6 video" by Speaker McCarthy's staff. I am just now entering into a "contributor" relationship with Blaze Media.
As I said in the beginning, this is an abbreviated overview of my personal "January 6 story." I have no idea what the government's renewed interest is in me or my videos. The only "crime" I committed on January 6 — technically speaking — is to have entered a restricted building. But, so did some 80 to 100 other journalists who have not been charged with any crimes. We all simply followed the story where the story went that day.
It would be easy to speculate that I might be being singled out because I haven't conformed to the "preferred narrative," or because of the sensitivity of certain stories I'm currently working on. I simply have no idea, so can't really go there. Not at least until I see the subpoena on Monday, and we can get some questions answered about the status of my case . . . which went from "Your client will be charged within the week" to total silence from the DOJ for more than a year and a half.
Some say there are "no coincidences" in this particular game . . . but we'll know more on Monday.
Stay tuned . . .
Steve
P.S. I have no idea what they're looking for in my videos. What's so special, that it requires a Grand Jury subpoena? All the good stuff is already posted online: